Buy WinStars 3¶
By purchasing the full version of WinStars 3, you will be able to access all the software's functions, and in particular :
To the entire

Gaia Data Release 2 catalogue

containing 1.7 billion stars.
To a digitized version of a photographic atlas covering the entire sky (function

Digitized Sky Survey

).
High resolution textures of the surface of the Moon, Mars and Earth.
Additional modules (3D objects, additional catalogues, missions etc…).
Note
The full version of WinStars 3 is available as freeware for the Linux operating system.
Please visit the page: Buy WinStars 3.
How do I unlock the software?¶
When you receive your personal code, here's how you can unlock all the features of W3:
Run the program.
Open the

settings

box.
At the very bottom of the menu, go to the Buy WinStars session.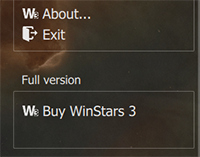 Complete the fields Enter your email and Enter your serial code.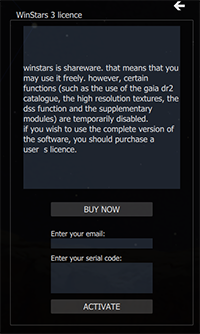 Note
In Windows, do not enter your code manually because the risk of error is too important. In the email you received, select your personal code with the mouse and then press CTRL + C. Then go back to the Buy WinStars dialog box, click on the field Enter your code and press CTRL + V. The code is pasted without error. Then enter your email address. Finally, click on the ACTIVATE button.
Close the program and restart it.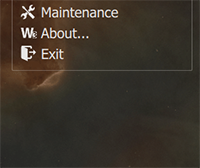 If the software is unlocked, you should no longer see the Buy WinStars section at the very bottom of the menu settings. Bravo ! You have the full version of WinStars 3.